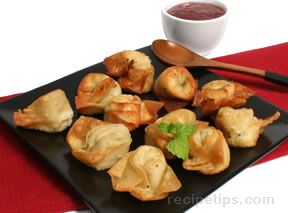 Directions
Soften cream cheese to room temperature.
In a small bowl combine the cream cheese, onions, soy sauce, salt, pepper and garlic.
Lightly mix in the crab meat.
Wonton Wrapper Preparation
Lay wonton wrappers on a flat surface and add a teaspoon of crab filling in the center of the wrapper. Lightly and evenly spread the filling into a coin-shaped portion making sure to keep it well away from the outer edges.
Dampen the edge of each wrapper with water and fold in half, resulting in a rectangular shape to the wrap.
Dampen the edge of each wrapper with water or a lightly beaten egg and press the edges together so they seal the contents. As they are sealed, press the excess air out of the wonton to keep the wonton from puffing up as it cooks.
Fold the wonton lenghtwise in half again, creating a narrow ribbon of folded dough.
Moisten the edges again if necessary so they adhere better. Fold each end in toward the center of the wrap, allowing half of the end to be remain in a vertical position while the other half is folded over on top of and overlaps the opposite side end piece, like the end corners of an envelope.
Press the ends together that overlap, so they adequately seal.
To retain the moisture while filling and preparing each wonton, keep the filled wontons that covered with a damp cloth while preparing.
When ready to cook, place the filled wontons on a baking sheet layered with parchment paper.
Pour cooking oil in a skillet and heat on medium high to 350ºF
Fry wontons in small batches for 3 to 4 minutes each until they are light golden brown.
Remove and place on paper toweling to absorb any excess grease.
Prep Time: 1 hour
Cook Time: 15 minutes
Servings: 12
Serving Size: 4 each


Ingredients
-
8 ounces ceam cheese
-
1 cup fresh crab meat or canned, drained and flaked
-
1/2 teaspoon soy sauce
-
1 clove garlic, finely minced
-
1 1/2 green onions, finely chopped
-
salt and pepper to taste
-
1 package wonton wrappers - 4 inch square
-
2 cups oil for frying