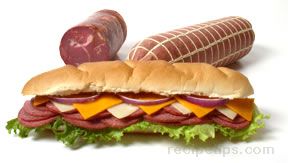 Directions
Split bread lengthwise.
Mix mayonnaise and salad dressing together until well blended and spread mixture onto both cut surfaces of the bread.
Place the lettuce on the bottom half of the bread; top with ham, hard salami, and pastrami, sliced cheeses and red onions. Top with second half of the bread. Cut into six servings and enjoy.
Prep Time: 10 minutes
Cook Time: 0 minutes
Servings: 6


Ingredients
-
1 loaf of Italian bread (18 inches)
-
1/2 cup mayonnaise
-
1/4 cup Italian dressing
-
6 large lettuce leaves
-
sliced ham
-
hard salami
-
pastrami
-
1/4 pound provolone cheese
-
1/4 pound mild cheddar cheese
-
1 small red onion, sliced thin