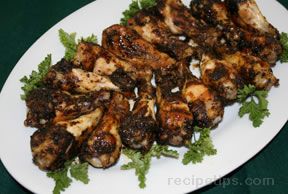 Directions
Generously oil roasting pan(s) or baking sheet(s) large enough to hold the chicken pieces without touching. Preheat oven to 400° F.
Mix seasonings together, blending well, in a shallow bowl or plate.
Separate each whole wing into 3 sections at the joints. Save tips for use in stock or discard. Snip off any pieces of fat or loose skin. (Scissors work better than a knife.) Roll each wing section in seasoning mix and place on prepared pan so it doesn't touch others to allow for browning.
Bake 12-15 minutes, remove from oven, and turn pieces. Return to oven for another 12-15 minutes, or until done. Cut into a meaty section to check for doneness.
Good hot, cold, or room temperature.
Prep Time: 15 minutes
Cook Time: 30 minutes
Container: oven proof pan or baking sheet
Servings: 4


Ingredients
-
2 pounds whole chicken wings
-
2 tablespoons vegetable oil
-
1 tablespoon dried basil, finely crumbled
-
1 teaspoon dried oregano, finely crumbled
-
1 teaspoon salt
-
1 teaspoon garlic powder
-
1/2 teaspoon freshly ground pepper
-
1 teaspoon paprika (optional)