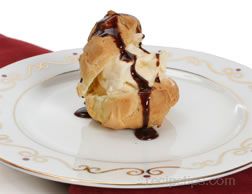 Directions
Preheat oven to 400° F.
Boil water, sugar, and butter in a small sauce pan. Add flour and stir briskly over low flame until a ball forms. Remove mixture from heat and beat in eggs, with spoons, one at a time. Beat with spoons until smooth.
For a smaller dessert puff pastry use a kitchen spoon similar to a tablespoon, to drop dough onto ungreased pan, placing dough 3-inches apart. If a larger puff is desired, use a serving spoon for portioning the dough onto the ungreased pan.
Bake 40 to 45 minutes until lightly browned. As the crust browns the inside opens up. Cooking for less time results in a sticky inner dough and a less open texture.
Remove from oven, set aside to cool.
When cream puffs have cooled, slice in half.
Place a small scoop of ice cream between the two halves.
Drizzle cream puffs with chocolate syrup.
Prep Time: 15 minutes
Cook Time: 45 minutes
Servings: 36
Serving Size: 1 each


Ingredients
-
2 cups water
-
2 sticks butter
-
2 cups flour
-
1 tablespoon sugar
-
8 eggs
-
1 container of vanilla ice cream
-
chocolate syrup