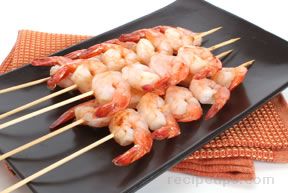 Directions
Mix all ingredients in a large bowl and marinate in the refrigerator for a minimum of 2 hours.
If using wooden skewers, soak in water for approximately 30 minutes before skewering the shrimp.
Remove shrimp from marinade, skewer them, and place on broiler pan. Brush shrimp with marinade before discarding remaining marinade.
Broil 4 to 5 inches from heat source for approximately 2 1/2 to 5 minutes, or until shrimp turns opaque. Turn once while broiling.
Prep Time: 2 hours
Cook Time: 5 minutes
Servings: 7
Serving Size: 3 each


Ingredients
-
1 pound extra large shrimp (approximately 21), thawed, peeled and deveined
-
3 tablespoons cooking oil
-
3 tablespoons white wine
-
3 cloves garlic, minced
-
salt and pepper to taste