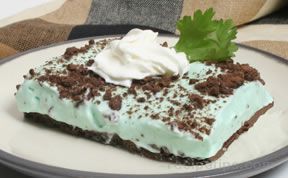 Directions
Pour melted butter into a small bowl, add graham cracker crumbs, and stir until moistened. Press mixture into an 8"x 8" baking dish.
In a medium bowl, combine the marshmallow, liqueurs (or extracts) and food coloring. Whip until fluffy.
In a different bowl, whip the whipping cream. Fold into the marshmallow mixture. Pour over crust; sprinkle with remaining crumbs and freeze for 8 hours or overnight.
Cut dessert into squares to serve. Garnish with whipped cream, if desired.
*Can easily be doubled.
Prep Time: 20 minutes
Servings: 12


Ingredients
-
1 cup chocolate wafer cookie crumbs
-
1/4 cup butter, melted
-
7 ounces marshmallow creme
-
2 tablespoons creme de menthe or mint extract
-
2 tablespoons creme de cacao or chocolate extract
-
green food coloring
-
1 cup whipping cream