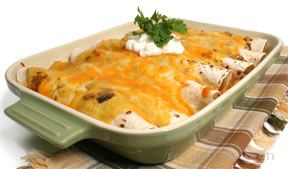 Directions
Preheat oven to 350º F.
In a saucepan over medium heat, combine the soup, sour cream, and green chilies.
Place cooked chicken onto flour tortillas, distributing it evenly among the tortillas.
Using one half of the soup mixture, pour an even amount onto each chicken topped tortilla. Sprinkle each with cheddar cheese; then roll up the tortillas, and place them in a 9"x13" baking dish. Top with remaining soup mixture and sprinkle with cheddar cheese.
Bake for 30 minutes, or until cheese has melted.
Top with sour cream and serve hot.
Prep Time: 15 minutes
Cook Time: 30 minutes
Container: 9"x13" baking dish
Servings: 6


Ingredients
-
3 pounds chicken; 1 whole or 2 large chicken breasts, cooked, and torn into long slim pieces
-
2 cans cream of chicken soup
-
8 ounces sour cream
-
1/2 can chopped green chilies (more or less according to taste)
-
1 package 10-inch flour tortillas.
-
3 cups shredded cheddar cheese