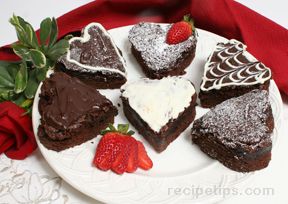 Directions
Combine all dry ingredients in a medium sized bowl. Melt butter or margarine and add to dry ingredients. Mix well. Add eggs one at a time and mix thoroughly.
Pour batter into a 9"x13" cake pan and bake at 350º F. for 20 minutes.
Allow to cool completely.
Decorate with your favorite icing or sprinkle with powdered sugar. To create the heart shaped brownies, line the cake pan with parchment paper or tin foil leaving enough extra on the sides to serve as "handles." Bake the brownies, allow them to cool, and then use the parchment paper or foil to remove them from the pan. Use a cookie cutter to cut out the shapes; decorate with icing or powdered sugar.
Prep Time: 15 minutes
Cook Time: 20 minutes
Servings: 24


Ingredients
-
1 cup butter or margarine, melted
-
2 cups sugar
-
4 eggs
-
6 tablespoons cocoa powder
-
1 1/2 cups flour