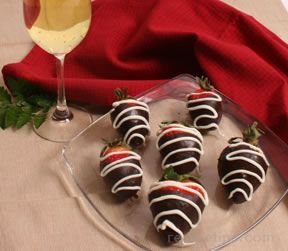 Directions
Rinse strawberries and dry completely.
Melt chocolate in microwave or double boiler, stirring occasionally, until smooth. Mix in half and half and vanilla. Remove from heat.
Push a toothpick into the stem end of the strawberries. Dip strawberries into the melted chocolate. Turn strawberry upside down and push the toothpick into a styrofoam block so the chocolate will dry evenly. Allow to set.
Melt white chocolate and drizzle over the dipped strawberries.
Allow to set and serve.
Ingredients
-
1 package semi-sweet chocolate chips
-
1 package white chocolate chips
-
1/2 cup half and half
-
1 teaspoon vanilla extract, brandy, coffee, or favorite liqueur
-
approximately 50 strawberries