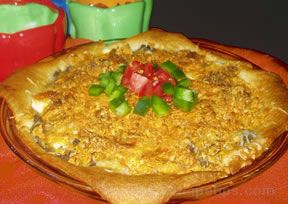 Directions
Brown the ground beef. Drain. Add taco seasoning as directed on package.
Place crescent rolls on the bottom of an ungreased 9" pie plate, squeezing the seams together to make a flat sheet. Layer taco meat on the dough crust. Follow with cheese and corn chips layer.
Bake at 350° F. degrees for 20-25 minutes, until crust is golden brown.
Remove from oven, slice, and top with desired toppings.
Prep Time: 15 minutes
Cook Time: 20 minutes
Container: pie plate
Serving Size: 1 slice


Ingredients
-
1 package crescent rolls
-
1 pound ground beef
-
1 package taco seasoning
-
1 cup cheddar cheese, shredded
-
1 cup corn chips, crushed
-
SUGGESTED TOPPINGS
-
2 cups lettuce, shredded
-
1/2 cup onion, chopped
-
1/2 cup green pepper, chopped
-
1/4 cup black olives, sliced