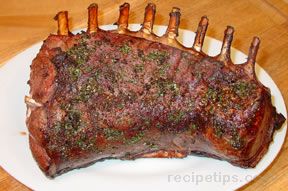 Directions
Remove fat and silverskin from the meat. If the butcher has not already done so, cut or saw through the chine bone (backbone) between every other rib so the rack can be carved into serving portions when cooked.
Combine wine, 2 tablespoons olive oil, soy sauce, pepper, garlic, and 1 tablespoon chopped herbs in a resealable plastic bag large enough to hold the meat. Add meat and refrigerate, turning occasionally--several hours for meat from a young animal, overnight or longer for meat from a mature animal.
Preheat oven to 375° F. Remove rack from marinade and pat dry. Brush or rub with 1 tablespoon olive oil. Heat a heavy oven-proof skillet to very hot and sear the meat for several minutes (top and ends). Arrange rack so rib side is down, pat the remaining herbs onto the top and ends of the meat and roast 20 - 25 minutes, or to desired doneness. Check with an instant-read thermometer (125 = medium rare), or make a small cut into the meat. Do not overcook or the meat will be dry and tasteless.
Remove from oven to a warmed platter and let rest for about 5 minutes to redistribute the internal juices. Carve into 2-ribs slices and serve.
Prep Time: 3 hours
Cook Time: 25 minutes
Container: heavy oven-proof skillet
Servings: 4


Ingredients
-
1 8 - 9 rib rack of venison, Frenched or left natural
-
1/2 cup dry red wine
-
3 tablespoons olive oil, divided
-
1 tablespoon soy sauce
-
2 cloves garlic, pressed or mashed
-
2 tablespoons chopped fresh sage or rosemary (or 2 teaspoons dried, crumbled)
-
freshly ground black pepper, to taste