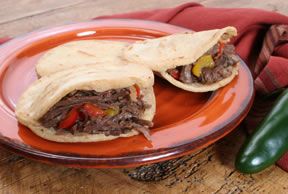 Directions
To Prepare Shredded Beef:
If using oven instead of crockpot, preheat to 350º F.
Place 5 to 6 pounds of roast beef in a Dutch oven or crockpot. In a bowl mix together dry soup, black pepper and concentrated beef soup base. Pour soup base mixture over roast beef. Add water to cover half the roast beef (omit water, if using a crockpot).
Oven bake a minimum of 4 hours, or for a crockpot, set temperature on high for 20 minutes, then cook on low 8 to 10 hours. Meat is finished cooking when it pulls apart easily.
Allow meat to cool, then shred. Skim any excess fat off of remaining juices. Place meat into juices and reheat for serving.
For beef dipping sauce, use condensed beef consommé. Add water, prepare according to can instructions and serve hot.
To Prepare Gordita:
Put approximately 1/2 inch of oil in large heavy skillet. Heat on medium setting.
Place pre-made and pre-baked gordita in oil to brown each side, turning once with a spatula. Cook each side for 1 to 2 minutes until golden brown so they will be crispy when finished (for less fat, cook the gordita by lightly coating the pan with a cooking spray or oil; this will produce a less crispy result). Remove gorditas with spatula and place on a cooling rack or a paper towel to absorb excess oil
When cool enough to handle, split each gordita with a knife to open a pocket in the gordita for the filling.
Fill the gordita with the prepared beef.
Container: Dutch oven or crockpot
Servings: 20
Serving Size: 2 each


Ingredients
-
5 pounds roast beef
-
1 package onion soup mix
-
1 tablespoon pepper or to taste
-
1/3 cup beef soup base - concentrated
-
30 ounces beef consommé
-
water - to cover half the roast beef
-
20 pieces gorditas - pre-made and pre-cooked
-
3 tablespoons cooking oil - more if necessary as it is absorbed