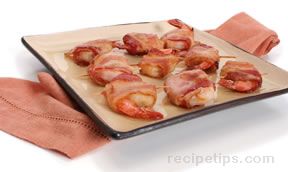 Directions
BACON WRAPPED SHRIMP:
Wrap one piece of bacon around one shrimp and one water chestnut. Repeat.
Melt half the butter in a large skillet and cook bacon wrapped shrimp until bacon is brown and crispy, approximately 3 minutes per side. Remove from skillet and set aside. Repeat with remaining butter and bacon wrapped shrimp.
Preheat broiler.
CREAMY HORSERADISH SAUCE:
Bring cream cheese to room temperature. Then, place all sauce ingredients in a medium bowl and blend well. Season. Spoon sauce over bacon wrapped shrimp and water chestnuts.
Broil until golden brown.
Serve warm.
Prep Time: 30 minutes
Cook Time: 30 minutes
Servings: 8
Serving Size: 3 each


Ingredients
-
BACON WRAPPED SHRIMP AND CHESTNUTS
-
24 each large shrimp, uncooked, peeled and deveined
-
24 each whole water chestnuts, drained
-
12 slices bacon, sliced in half
-
HORSERADISH SAUCE:
-
8 ounces cream cheese
-
6 tablespoons butter, unsalted and divided
-
1/2 cup mayonnaise
-
1/2 cup sour cream
-
3 tablespoons to 4 tablespoons of prepared horseradish
-
1 tablespoon fresh lemon juice
-
1 tablespoon hot sauce
-
white pepper, to taste