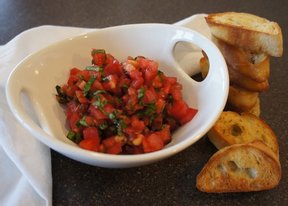 Directions
Place bread slices on a baking sheet. Drizzle with olive oil. Broil for 4-5 minutes, until golden brown, flipping once.

Mix together remaining ingredients and serve on toasted bread.

NOTE: You can toast the bread a day or two early and dress it up on the day you serve it.
Prep Time: 15 minutes
Cook Time: 5 minutes
Servings: 8


Ingredients
-
1 loaf French bread, sliced
-
1/4 cup olive oil
-
8 Roma tomatoes, diced
-
1/2 cup fresh basil
-
2 cloves garlic, minced
-
1 teaspoon balsamic vinegar
-
salt and pepper, to taste