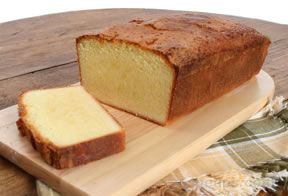 Directions
Bring all ingredients to room temperature. Preheat oven to 325º F.
In a large mixing bowl, cream butter until light and fluffy. Add sugar and beat. Add eggs one at a time, beating well after each egg. Add lemon juice, almond, and vanilla flavorings.
Add salt to cake flour and sift twice before gradually adding to egg mixture. Gently beat until just combined; do not over beat. Pour batter into prepared pan.
Bake at 325º F for 70-80 minutes.
Prep Time: 20 minutes
Cook Time: 1.5 hours
Container: 9x5 loaf pan, grease bottom only and line with parchment or wax paper.
Servings: 8
Serving Size: 1 slice


Ingredients
-
1/2 cup butter
-
1/2 cup margarine
-
1 2/3 cups sugar
-
5 eggs
-
1 1/2 tablespoons lemon juice
-
1/2 teaspoon almond extract
-
1/4 teaspoon vanilla extract
-
2 cups cake flour
-
1/2 teaspoon salt