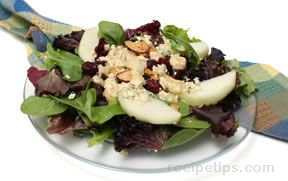 Directions
In a small bowl, beat 2 tablespoons of olive oil and 2 ounces of feta cheese until smooth. Then add the remaining olive oil, vinegar, mustard, salt and pepper to taste. Whisk until blended. Cover and refrigerate, if not using immediately.
Divide salad greens on plates. Top salad greens evenly with remaining cheese and dried cranberries. Arrange pear slices on top of each salad. Sprinkle with sliced almonds.
Drizzle with dressing just before serving.
Prep Time: 15 minutes
Servings: 4


Ingredients
-
8 ounces package mixed greens, washed
-
1 fresh pear, thinly sliced
-
1/2 cup honey roasted sliced almonds
-
4 ounces feta cheese (tomato basil or flavor of your choice)
-
1/2 cup dried cranberries
-
DRESSING:
-
1 1/2 tablespoons white wine vinegar
-
1 1/2 teaspoons Dijon mustard
-
3 tablespoons olive oil
-
salt and pepper to taste