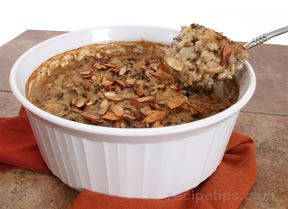 Directions
Preheat oven to 350º F.
Cook rice according to package directions; except--cook rice only for a total of 10 minutes.
Sauté onion in butter over medium heat while rice is cooking, approximately 10 minutes, or until onions are transparent.
Combine all ingredients (except almonds) in a 2½ quart baking dish. Stir well to combine. Cover and bake 1½ hours, removing cover during the last 15 minutes of baking time. Moisture should be fairly well absorbed before removing from oven.
Season to taste. Garnish with almonds and serve.

*Beef broth when serving with a beef entrée; chicken broth when serving with a poultry entrée.
Prep Time: 15 minutes
Cook Time: 1 hour
Container: Medium sauce pan and 2½ quart baking dish.


Ingredients
-
1 cup brown rice
-
1 large onion, chopped
-
1/4 cup butter
-
1 cup canned sliced mushrooms, drained
-
10 1/2 ounces can of beef or chicken broth*
-
10 3/4 ounces cream of mushroom soup
-
almonds for garnish, optional