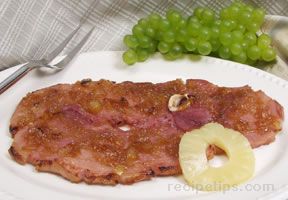 Directions
Move the oven rack so that the broiler pan can be positioned approximately two inches from the broiling coils. Preheat the oven to the highest temperature setting.
Place the ham steak on the prepared pan and broil 6 to 8 minutes on one side. Turn the ham steak and broil an additional 6 to 8 minutes or until lightly browned.
Serve hot.
Optional: Add a glaze of your choice, brushed onto ham steak after turning. Garnish with pineapple rings.
Prep Time: 5 minutes
Cook Time: 15 minutes
Container: Broiler pan lightly coated with cooking spray.
Servings: 4
Serving Size: 4 ounces


Ingredients
-
1 1/2 pounds to 2 pounds fully cooked, 3/4
-
Optional: glaze of your choice
-
Optional: garnish with pineapple rings