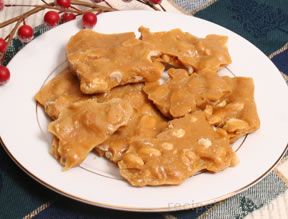 Directions
Generously butter a baking sheet and set aside. Measure out the butter, baking soda, and vanilla; have them within reach.
Mix together in a 3-quart, heavy bottom saucepan the sugar, water, corn syrup, and salt. Stir over low heat until well blended, then raise heat to medium-high. When the mixture reaches 270 degrees F. stir in the peanuts. Boil until it reaches 300 degrees F. on a candy thermometer, stirring constantly . If working without a thermometer or cooking at high altitudes, see the TIPS below.
When syrup reaches 300 degrees F., remove from heat and immediately add butter, baking soda, and vanilla. Stir in quickly until well mixed and then pour and scrape candy onto prepared sheet. Spread it out as much as possible--it will be stiff and begin to harden quickly. It can be pulled and stretched (with buttered fingers) to make a thinner sheet, but do this very carefully, as the candy will be hot.
Cool on the sheet and break into pieces. Store air-tight in a waxed-paper lined container.
TIP: Bringing the brittle up to the proper temperature is critical for a successful peanut brittle. Using a candy thermometer is the best method to use to ensure you are cooking the brittle to the proper temperature. It is well worth purchasing a candy thermometer if you are going to be making candies that must reach a specific temperature.
If you don't have a candy thermometer, have a bowl of ice water near the stove. When the boiling syrup begins to turn golden brown drop a small amount, about 1/2 teaspoon, into the cold water. When the syrup immediately hardens into a brittle string or ball, it is done.
High Altitudes: If cooking the brittle at higher altitudes reduce the recommended temperature of 300 degrees by 2 degrees per thousand feet. EXAMPLE: if you're are at 5,000 feet subtract 10 degrees off 300 degrees and remove mixture from heat when temperature reaches 290 degrees F.
Prep Time: 5 minutes
Cook Time: 20 minutes
Container: heavy saucepan, large baking sheet


Ingredients
-
1 cup water
-
2 cups sugar
-
1 cup corn syrup, preferably light
-
1/2 teaspoon salt
-
2 cups raw peanuts
-
2 tablespoons butter, plus extra for pan and fingers
-
1 teaspoon baking soda
-
1/2 teaspoon vanilla (optional)