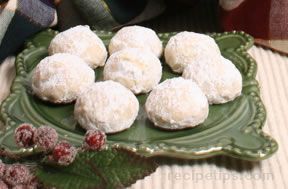 Directions
Cream the butter with an electric mixer; then gradually mix in the sugar.
Blend in the salt, vanilla, flour, and pecans. The resulting dough will be stiff.
Pinch off small pieces of the dough and roll into balls.
Place the dough balls on an ungreased cookie sheet and bake for 12 minutes at 400°F.
Remove the cookies from the oven and roll them in powdered sugar while still hot.
Place the cookies on wax paper to cool.
Prep Time: 1 hour
Cook Time: 45 minutes
Servings: 24
Serving Size: 2


Ingredients
-
1 cup butter
-
1/2 cup powdered sugar
-
1/4 teaspoon salt
-
2 teaspoons vanilla
-
2 cups flour
-
1/2 cup finely chopped pecans
-
Additional powdered sugar (for coating the cookies after baking)