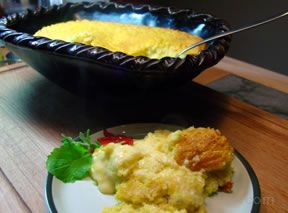 Directions
Preheat oven to 375. Oil a 2 quart baking dish.
Put 1 1/2 cups of corn (drained, if using canned corn) in food processor bowl, along with coarsely chopped onion. Process to a creamy puree.
In a large bowl, beat eggs, add melted butter and buttermilk, and mix well. Add 1/2 cup unpureed corn and the pureed corn-and-onion mix. Stir in well.
Stir together cornmeal, baking soda, and salt. Add to the liquid mixture. Put half of this batter into prepared dish. Sprinkle with cheese and top with remaining batter.
Bake until the top is set and slightly browned, about 1 hour. center should be creamy, not dry. Serve with salsa if desired.
TIP: To sour milk as a substitute for buttermilk: put 1 tablespoon vinegar in measuring cup, fill with milk, stir gently and let stand several minutes.
Prep Time: 15 minutes
Cook Time: 1 hour
Servings: 8


Ingredients
-
2 cups whole kernel corn, divided (fresh, frozen or canned)
-
1 cup cornmeal
-
1/3 cup butter
-
1 cup buttermilk (substitute soured milk; see TIP)
-
2 eggs
-
1/2 teaspoon baking soda
-
1 teaspoon salt
-
1 onion
-
1 cup freshly grated or shredded cheese