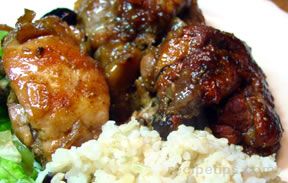 Directions
Soak fruit in wine. Preheat oven to350° F.
Mix salt, pepper and flour in a plastic or paper bag. Add chicken pieces, 2 or 3 at a time and shake to coat lightly.
Heat oil in an oven-proof heavy skillet or pot, with a cover, and brown the chicken. Add onions and fennel, stirring for a minute or two to toast the seeds. Add fruit and wine plus 1/2 cup water. Stir to loosen browned bits from the pan.
Cover and bake about 45 minutes, or until chicken is tender. Good served with rice, polenta, noodles, or mashed potatoes.
Prep Time: 20 minutes
Cook Time: 45 minutes
Servings: 4


Ingredients
-
1 cup coarsely chopped dried fruit: a mixture of figs, apricots, prunes, raisins, etc
-
1 cup wine
-
1/4 cup flour, more if needed
-
1 teaspoon salt, plus ground black pepper to taste
-
8 pieces chicken legs, thighs, or a combination
-
2 tablespoons olive or canola oil
-
1 onion, chopped
-
2 teaspoons fennel seeds, crushed or coarsely ground
-
1/2 cup water