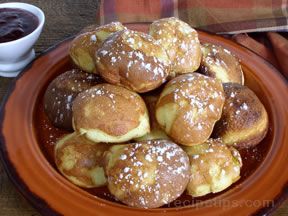 Directions
Preheat oven on low to keep cakes warm until serving.
Sift together all dry ingredients. Add eggs & buttermilk. Whisk until smooth.
Preheat prepared aebleskiver pan over medium high heat.
Tip: Test temperature and heat by cooking 1 or 2 aebleskivers prior to making a whole batch.
Fill aebleskiver molds 2/3 full with batter. Drop 1 teaspoon of apple sauce or fruit onto center of batter. Cook until the edges underneath become slightly browned, approximately 1 to 2 minutes. Turn aebleskivers over carefully and continue cooking an additional 1 to 2 minutes.
Remove from pan. The aebleskivers deflate some once removed from the pan.
Place in preheated oven until ready to serve.

Serve with butter, hot syrup, additional fruit or dust with powdered sugar.
Prep Time: 15 minutes
Cook Time: 30 minutes
Container: Aebleskiver pan, prepared with cooking spray or lightly buttered
Servings: 6


Ingredients
-
1 1/2 cups all purpose flour
-
1 teaspoon baking powder
-
1/2 teaspoon soda
-
1/4 teaspoon salt
-
2 eggs, beaten
-
2 cups buttermilk
-
1/2 teaspoon cinnamon (optional)
-
1/2 cup apple sauce, or cooked fruit of your choice
-
Optional topping: butter, hot syrup