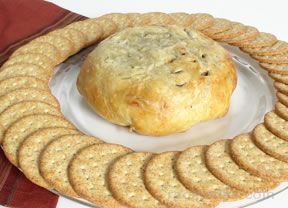 Directions
Preheat oven to 400° F.
Bring refrigerated pastry sheet to room temperature by placing on the counter for 15 to 20 minutes. Do not remove packaging. Once pastry sheet has reached room temperature, remove the packaging and place pastry sheet on a greased baking pan.
Place the wheel of brie in the center of the crust. Fold pastry sheet edges over the brie, bringing the pastry sheet sides to the center and pinch pastry together to seal. Trim off excess pastry, pinching to seal the brie inside of the pastry sheet.
Turn brie over and place the sealed side onto the greased baking pan. Brush pastry sheet with egg white.
Bake 20-25 minutes, or until crust is light golden brown. Reduce heat to 350° F, if crust darkens too quickly.
Serve warm or at room temperature.
Prep Time: 30 minutes
Cook Time: 25 minutes
Container: greased baking sheet
Servings: 6


Ingredients
-
refrigerated pastry sheet
-
8 ounces wheel of Brie cheese
-
1 egg white, slightly beaten