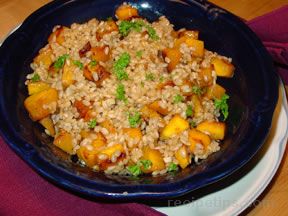 Directions
Peel, seed and dice squash into 1/2 inch cubes (should have about 3 cups). Dice onion, mince garlic.
In a large skillet, heat 2 tablespoons oil. When hot, add squash cubes in a single layer and cook, stirring occasionally, until tender. Salt and pepper lightly.
Heat stock and water in a small container and keep warm (microwave works well for this).
In a saucepan, heat 1 tablespoon oil and cook onion, garlic and oregano over low heat for 5 minutes, adjusting heat as necessary so garlic doesn't burn.
Add rice, stirring to coat well with oil. Raise heat to medium, add wine and stir until absorbed, 3 - 4 minutes.
Begin adding warm stock, about 1/2 cup at a time, stirring with each addition until liquid is nearly all absorbed before adding more. Continue until rice is tender (stock should be used up, or nearly so). Add salt and pepper to taste. Stir in squash cubes. Serve immediately.
Prep Time: 15 minutes
Cook Time: 45 minutes
Container: saucepan, large skillet
Servings: 4
Serving Size: 1 cup


Ingredients
-
1 winter squash, about 1 1/2 lbs, preferably a smooth-skinned type such as butternut
-
3 tablespoons olive oil, divided
-
1 onion
-
2 cloves garlic, or more
-
1 teaspoon dried oregano
-
1/3 cup dry wine
-
2 cups vegetable or chicken stock, or combination of stock and water
-
1 cup arborio rice (substitute other short or medium-grain rice)
-
salt and pepper