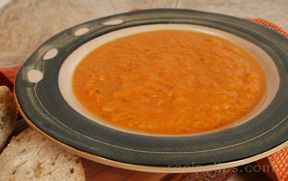 Directions
Fill a 5 quart or similar-sized pot with enough water to cover the quartered sweet potatoes and add 1 teaspoon of salt to the water. Place unpeeled potatoes into the pot of boiling water on a low boil. Cook until tender. Drain potatoes and water from pot using a colander. When potato chunks have cooled, remove potato skins by hand.
Using the same 5 quart pot, add oil, carrots, onions, and celery. Set burner on medium heat. Sauté ingredients until soft. Add broth and sweet potatoes. Bring to a full boil befor reducing heat; simmer for 40 minutes.
Add seasonings while simmering. Before removing from heat, additonal seasonings, if needed, to taste. Add extra water or chicken broth, if the consistency is too thick. With an immersion blender or food processor, purée until almost smooth.
Reheat before serving.
Prep Time: 45 minutes
Cook Time: 45 minutes
Container: 5 quart pan
Servings: 12
Serving Size: 1 cup


Ingredients
-
4 pounds 4 large sweet potatoes, unpeeled and quartered
-
1 large onion, chopped
-
3 cups carrots, peeled and chopped
-
1 cup celery stalks, chopped
-
5 cups chicken broth
-
1 tablespoon canola oil
-
1/2 teaspoon dried oregano leaves
-
1/2 teaspoon thyme leaves
-
1 pinch freshly ground nutmeg, a few grinds
-
1/2 teaspoon ground cumin
-
salt and pepper to taste