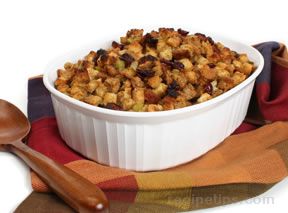 Directions
Preheat oven to 350° F.
In a large skillet, over medium high heat, melt butter and saute onions, garlic and celery until soft (approximately 10 minutes). Season to taste. Remove from heat. Stir in cubed stuffing and broth until combined. Stir in cranberries and apricot.
Place stuffing mixture into a lightly greased 2 quart casserole.
Bake 20 to 25 minutes or until top is light golden brown and stuffing is thoroughly heated.
Prep Time: 15 minutes
Cook Time: 30 minutes
Container: large skillet and 2 quart baking dish
Servings: 10
Serving Size: cup


Ingredients
-
14 ounces cubed stuffing, seasoned
-
2 tablespoons butter or margarine
-
1 cup celery, chopped fine
-
1 small onion, chopped
-
2 cloves garlic, chopped
-
3 cups stock or broth
-
salt and pepper to taste
-
1/3 cup dried apricots, chopped
-
3/4 cup dried cranberries