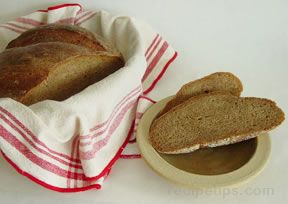 Directions
In a large bowl, mix 1/2 cup warm water and 1/2 teaspoon sugar. Sprinkle with 2 packets dry yeast and let stand until foamy, about 10 minutes.
Add remaining water and 1 cup wheat flour to yeast mixture. Mix vigorously for several minutes, then let stand while preparing remaining ingredients.
Crush anise seed slightly, to release flavor. Grate orange peel. Mix rye flour, remaining wheat flour, and salt. Set aside.
Add molasses, sugar, shortening or oil, orange zest, and anise seed to yeast mixture. Mix in well and begin adding flour mixture, about 1/2 cup at a time, mixing after each addition.
Flour a work surface and scrape dough onto it. (If dough is too sticky to handle, mix in another 1/4 cup flour). Knead dough for at least 5 minutes, flouring work surface as necessary. Use the smallest amount of flour possible, since dough shouldn't be dry.
Put kneaded dough in a bowl about twice as big as the dough ball. Cover with a damp cloth and let rise in a warm place until about 1 1/2 times original size. This may take an hour or more, depending on temperature.
Punch dough down by pressing your fist into it in several places, turn dough over in bowl, and let rise again for about an hour.
Remove from bowl, divide in half and form into flattened rounds about 7 inches across. Dust a baking sheet or stone with cornmeal (be generous with the cornmeal) and put the loaves on the sheet with several inches between them. With a razor blade or very sharp knife, make 3 slits across the surface of each loaf. Cover and let rise until almost doubled..
Preheat oven to 375° F. Bake loaves until they sound hollow when tapped on the bottom, about 35 minutes.
When done, remove from pan and cool on a rack.
Prep Time: 4 hours
Cook Time: 45 minutes
Container: mixing bowl, baking sheet or stone
Servings: 20


Ingredients
-
2 packets dry yeast, or 4 teaspoons
-
2 cups water, divided
-
1/2 teaspoon sugar
-
2 cups rye flour, preferably dark
-
3 cups wheat flour, plus more as needed (white, whole grain, or a mixture)
-
1 tablespoon anise seed
-
2 tablespoons vegetable oil or other shortening
-
1 tablespoon salt
-
1/4 cup molasses
-
1/4 cup sugar
-
2 tablespoons freshly grated orange zest
-
cornmeal, for dusting baking pan