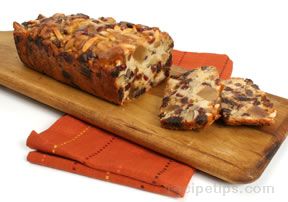 Directions
Mix fruit and nuts in a large bowl.
Prepare pan(s): for loaf pans, cut a strip of paper (waxed or parchment) or foil as wide as the pan is long, and long enough to cover bottom and sides and come a little above the sides of the pan. This makes it easy to remove the heavy, breakable cake from the pan. Oil or butter the pan, press the paper or foil firmly into the pan, and oil it also. For a tube pan, cut a circle to fit bottom with a cut-out for the tube. If pan is not a spring-form, cut a strip to line the side as well. Oil as for loaf pan.
Preheat oven to 300° F.
Separate eggs. In a large mixing bowl, cream butter and sugar until smooth. Beat in egg yolks, one at a time. Mix in orange juice and vanilla.
Mix together flour,salt, baking powder and nutmeg. Add, in 3 batches, to egg mixture, stirring each addition in well.
Beat egg whites to firm peaks and fold gently into batter.
Pour batter over fruit and nut mixture and mix gently but thoroughly, using your hands, if necessary. Divide batter evenly into prepared pans, pressing down into corners. Dip fingertips in water and smooth tops, pushing large chunks down into batter.
Bake 60 - 75 minutes, or until a toothpick inserted into the center comes out clean. If tops seem to be getting too dark towards the end of the baking time, cover loosely with foil.
Cool in the pan for 20 - 30 minutes, then remove, carefully, to a rack to cool completely. Cake can be served fresh, or kept, wrapped and refrigerated, for weeks. (If desired, drizzle top with several tablespoons of brandy or rum, wrap, and allow to age for a week in a cool place).
Prep Time: 1 hour
Cook Time: 1.5 hours
Container: large mixing bowl, 4x8 loaf pans or 9
Servings: 48


Ingredients
-
1 pound dates, chopped coarsely
-
1 pound golden raisins
-
1 pound walnuts
-
1/2 pound slivered almonds
-
1 cup candied diced lemon peel or pineapple
-
1 cup dried cranberries or candied cherries
-
4 eggs
-
1/2 cup butter
-
1 cup sugar
-
2 teaspoons vanilla
-
1/4 cup orange juice
-
2 cups flour
-
1 teaspoon baking powder
-
1 teaspoon ground nutmeg
-
1/2 teaspoon salt