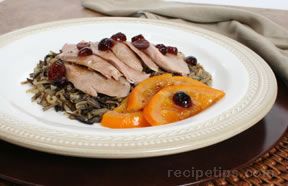 Directions
ROASTING THE DUCK:
Preheat oven to 450° F.
Coat a large skillet with vegetable cooking spray.
Place duck breasts into prepared skillet over medium high heat and cook until lightly browned, approximately 1 to 3 minutes per side.
Coat a baking dish with vegetable cooking spray before adding the duck and baking for 20 minutes, or until done.
Allow duck to cool for 15 minutes.
Thinly slice the roasted duck breast and place the slices on a bed of wild rice.
Note: According to the USDA, duck should be roasted for an average of 20 minutes per pound; however, this time will vary according to the roasting temperature, accuracy of the oven, altitude, room temperature, temperature of the duck when inserted into the oven, etc. To ensure safety, the meat must reach an internal temperature of 165ºF as measured by an accurate meat thermometer.
ORANGE AND CRANBERRY SAUCE:
Over medium high heat, place all sauce ingredients into a sauce pan and bring to a full boil.
Reduce heat to medium and continue cooking, stirring frequently, until orange slices appear soft and cooked.
Remove orange slices and carefully set aside; then over low heat, continue cooking until sauce is slightly thickened.
Return orange slices to sauce before serving along side or on the sliced duck and rice.
Prep Time: 15 minutes
Cook Time: 30 minutes
Servings: 4


Ingredients
-
4 duck breast halves (4 ounces each), skinned and boned
-
3 1/2 cups cooked rice
-
ORANGE CRANBERRY SAUCE:
-
1 orange, unpeeled and sliced thin
-
1 cup dried cranberries
-
1/2 cup granulated sugar
-
1 cup dry white wine
-
3/4 cup orange juice
-
2 tablespoons water