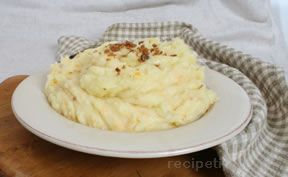 Directions
Remove blemishes and scrub potatoes. Slice the potatoes into quarters and place in a large sauce pan. Add water to pan until potatoes are covered. Bring to a boil.
Reduce heat, cover and continue cooking 20 minutes, or until potatoes are tender. Remove from heat, drain and peel off skins.
Place potatoes in a large bowl. Add butter and beat with an electric mixer. Gradually add the milk, continuing to beat potatoes until they reach desired consistency. Add more milk, if needed and salt and pepper to taste.
While potatoes are still warm, stir in grated cheddar cheese and bacon bits, reserving some of each for garnish. Garnish.
Serve immediately.
Prep Time: 10 minutes
Cook Time: 30 minutes
Container: large sauce pan
Servings: 4


Ingredients
-
2 pounds white or golden potatoes (thin skinned)
-
2 tablespoons butter
-
1/2 cup milk
-
1/2 cup cheddar cheese, grated
-
2 tablespoons bacon bits
-
Kosher salt and black or white pepper to taste