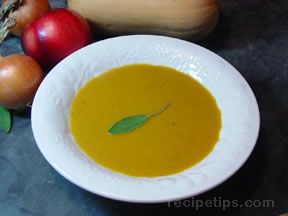 Directions
Cut squash in half lengthwise, remove seeds and stringy pulp, peel and cut into cubes. Dice onion; peel, core and dice apple. Press or mince garlic. Chop sage finely, if using fresh; crumble, if using dry.
In a heavy pot, 2 quarts or larger, melt butter. Add onion, sage and cardamom, if using. Cook and stir several minutes, then add garlic, apple and squash pieces. Stir to coat everything well with sage and butter. Add stock and cayenne pepper; cook until vegetables are soft.
Puree soup (an immersion blender is ideal for this), stir in grated cheese and cream, and taste for seasoning. If soup is too thick, add more water or stock.
Prep Time: 20 minutes
Cook Time: 30 minutes
Servings: 4
Serving Size: 1 cup


Ingredients
-
2 pounds butternut or other smooth-skinned squash
-
1 onion
-
1 apple
-
2 tablespoons butter
-
1/4 teaspoon cardamom (optional)
-
1 tablespoon fresh sage leaves, finely chopped or 1 teaspoon dried
-
1 pinch cayenne pepper
-
2 cloves garlic
-
4 cups chicken stock, or half stock and half water
-
1 cup grated smoked cheddar cheese
-
1/2 cup cream (optional)
-
salt and pepper to taste