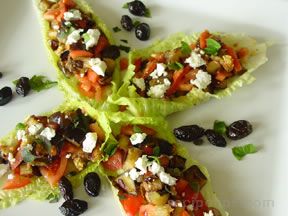 Directions
Wash eggplant and cut into small cubes - 1/2 to 3/4 inch. It's not necessary to peel unless eggplant is old or tough. Salt liberally and let stand 30 minutes.
Rinse off salt and pat cubes dry. Heat oil in a heavy skillet until very hot. Add eggplant in a single layer (in batches, if necessary) and leave undisturbed for 2 or 3 minutes to brown, then cook, stirring occasionally, until tender, 5 - 10 minutes depending on size of cubes and age of eggplant.
Remove from heat and allow to cool in pan. Chop tomatoes and herbs; add to eggplant reserving a few bits of herbs for garnish. Add vinaigrette, mix well and taste for seasoning.
Arrange lettuce leaves on salad plates or platter. Fill with eggplant mixture. Crumble feta cheese over eggplant; scatter olives and reserved herbs on and around the salads. Serve at room temperature.
Prep Time: 1 hour
Cook Time: 10 minutes
Servings: 4
Serving Size: 1 cup


Ingredients
-
1 medium eggplant, about 1 pound
-
2 tablespoons olive or canola oil
-
1/2 cup crumbled feta cheese, or to taste
-
2 medium tomatoes
-
1 tablespoon chopped fresh oregano or other herbs
-
1/4 cup vinaigrette, purchased or homemade
-
4 large leaves: lettuce, kale, savoy cabbage, etc
-
12 black olives, preferably oil-cured Kalamata
-
salt and pepper to taste