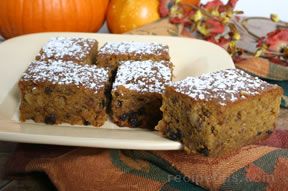 Directions
Preheat oven to 350º F.
Spray baking dish with vegetable cooking spray. Combine currants, nuts and 2 tablespoons of flour in a small bowl, set aside. Sift together ½ cup flour, baking powder, soda, salt, and spice in another small bowl.
In a 2 quart pan, over medium heat, melt butter. Stir in brown sugar and remove from heat. Stir in pumpkin, vanilla and add eggs one at a time. Stir after adding each egg. Beat well.
Add the dry ingredients and stir until combined. Fold in currants and nut mixture. Pour into prepared pan.
Bake 30 to 35 minutes. When cool, cut into bars. Garnish with a sprinkling of powdered sugar, if desired.
Prep Time: 15 minutes
Cook Time: 30 minutes
Container: 8-inch square baking dish
Servings: 8


Ingredients
-
1/2 cup currants (or your choice of dried fruit)
-
1/2 cup nuts (walnuts or pecans)
-
2 tablespoons all-purpose flour
-
1/2 cup flour
-
1/2 teaspoon baking powder
-
1/2 teaspoon salt
-
1/4 teaspoon soda
-
1/2 teaspoon nutmeg
-
1/2 teaspoon ginger
-
3/4 teaspoon cinnamon
-
1/2 cup butter or shortening
-
1 cup brown sugar, firmly packed
-
2/3 cup pumpkin
-
1 teaspoon vanilla
-
2 eggs (not beaten)
-
optional garnish: powdered sugar