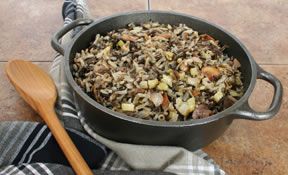 Directions
In a colander, rinse rice with warm tap water.
Bring water, rice and soup base to a full boil for 1 minute. Reduce heat to a simmer, cover and cook for 35 to 40 minutes or until rice is tender and moisture has been absorbed. Set rice aside.
In a heavy skillet melt butter. Add vegetables to skillet. Saute vegetables until soft and lightly browned. Remove from heat. Season to taste.
Combine with rice and serve.
Prep Time: 10 minutes
Cook Time: 45 minutes
Container: heavy sauce pan with tight fitting lid and skillet
Servings: 6
Serving Size: cup


Ingredients
-
1 cup wild rice
-
3 1/4 cups water
-
3 teaspoons chicken base (or beef base if serving rice with red meat)
-
1 onion, chopped
-
3 or 4 stalks of celery, chopped
-
1 clove garlic, chopped
-
4 ounces mushroom slices, canned or fresh
-
2 tablespoons butter
-
Salt and pepper to taste