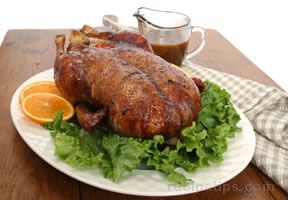 Directions
ROASTED DUCKLING:
Preheat oven to 375° F.
Spray roasting pan and rack with vegetable cooking spray. Rinse bird with cool water on both the inside and outside. Pat dry.
Sprinkle inside of duck cavity with salt and pepper. Fill cavity with cut vegetables. Tie legs together with oven safe string and tuck wings beneath body to help prevent over browning, securing with oven safe string, if needed.
Place rack in baking dish and set duck on rack.
To make the glaze, combine fruit juice and wine in a small bowl.
Lightly cover duck with sauce mixture and baste every 25 minutes until bird is done.
Bake 22 minutes per pound, or until thermometer reaches 180° F.
Remove bird from oven and allow it to rest for 15 minutes. Remove skin and season, if desired. Cover until ready to serve.
Note: According to the USDA, duck should be roasted for an average of 20 minutes per pound; however, this time will vary according to the roasting temperature, accuracy of the oven, altitude, room temperature, temperature of the duck when inserted into the oven, etc. To ensure safety, the meat must reach an internal temperature of 165° F as measured by an accurate meat thermometer.
ORANGE MARMALADE SAUCE:
In a small sauce pan, over medium heat, combine orange marmalade, orange juice, soy sauce, mustard and garlic. Bring to a full boil, stirring constantly.
Lower heat and simmer 3 to 4 minutes. Serve with the duck.
Prep Time: 15 minutes
Cook Time: 1.5 hours
Container: roasting pan and rack
Servings: 4


Ingredients
-
ROASTED DUCKLING:
-
4 pounds to 5 pound domestic duck (if frozen, thaw according to package directions)
-
1/2 teaspoon salt
-
1/4 teaspoon pepper blend or freshly ground black pepper
-
1/2 cup celery, cut into 1
-
1 carrot, peeled and cut into 1-inch rounds
-
1 onion, cut into large chunks
-
1 clove to 2 cloves garlic, finely chopped
-
GLAZE:
-
1/2 cup fresh orange juice or lemon juice
-
1/2 cup merlot wine or dry red wine
-
ORANGE MARMALADE SAUCE:
-
1/3 cup orange marmalade
-
1/4 cup fresh orange juice
-
1 tablespoon soy sauce (light)
-
1 tablespoon spicy brown mustard
-
1 clove garlic, minced