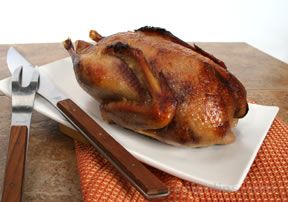 Directions
TO ROAST THE DUCK:
Preheat oven to 400º F.
Rinse duck with cool water and pat dry. Sprinkle inside of duck cavity with salt and pepper and loosely stuff cavity with vegetables. Tie the legs together with oven safe string and lay bacon slices over duck.
Cover the bottom of pan with apple cider. Roast the duck 25 minutes and then remove bacon pieces, baste with apple cider, and return to oven. Continue roasting until duck is light golden brown - about 25 to 30 minutes.
Note: According to the USDA, duck should be roasted for an average of 20 minutes per pound; however, this time will vary according to the roasting temperature, accuracy of the oven, altitude, room temperature, temperature of the duck when inserted into the oven, etc. To ensure safety, the meat must reach an internal temperature of 165ºF as measured by an accurate meat thermometer.
RED CURRANT SAUCE:
In a small bowl combine jelly, sugar, and grated rind until well blended.
Stir in remaining ingredients and whisk together thoroughly.
Serve with the duck.
Prep Time: 15 minutes
Cook Time: 1 hour
Container: baking dish
Servings: 2


Ingredients
-
ROASTED MALLARD DUCK:
-
2 pounds mallard duck, thawed
-
4 slices to 6 slices of bacon, not cooked
-
1/3 cup onion, coarsely chopped
-
1/4 cup celery, coarsely chopped
-
1/2 teaspoon Kosher salt
-
1/4 teaspoon pepper
-
Fresh apple cider
-
RED CURRANT SAUCE:
-
1/3 cup red currant jelly
-
2 tablespoons sugar
-
1 grated rind from one large orange
-
1 tablespoon orange liqueur or Port wine
-
1 tablespoon frozen orange juice concentrate
-
2 tablespoons fresh lemon juice
-
1/3 teaspoon Kosher salt