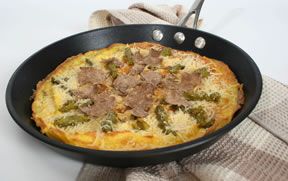 Directions
Preheat broiler.
In a bowl, whisk together lightly eggs and water. Over medium-high heat, melt butter in skillet. Pour egg mixture in the pan. Tilt the pan unil the bottom surface is completely covered with egg.
Lift up the cooked portion of the egg to allow uncooked egg to run to the bottom of the pan. Continue cooking until the top of the egg is no longer wet in appearance and bottom of omelet is light golden brown.
Remove pan from heat. Cover top with cheese and asparagus tips. Place under broiler until cheese is melted and egg is lightly browned. Remove.
Garnish with thinly shaved slices of truffles and fresh herbs. Season to taste and serve immediately.
Prep Time: 5 minutes
Cook Time: 5 minutes
Container: One 10" heavy skillet with a heat proof handle.
Servings: 2


Ingredients
-
4 large eggs - slightly beaten
-
2 tablespoons butter (unsalted)
-
6 ounces asparagus (or any vegetable you prefer, fresh or canned)
-
Salt and pepper to taste
-
Fresh truffle shavings for garnish