Basic Omelet - Recipe
This egg dish is the base for many variations of omelets. You can add a variety of different ingredients, including cheese, meat, peppers, onions, tomatoes, mushrooms, and black beans. Finish your omelet off by topping it with a little salsa for a boost of flavor.

view recipe online: https://www.recipetips.com/recipe-cards/t--2201/basic-omelet.asp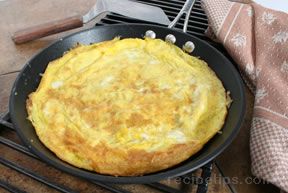 Directions
In a bowl, lightly whisk together eggs and water. Then, over medium-high heat, melt butter in skillet and pour egg mixture in the pan. Tilt the pan until the bottom surface is completely covered with egg. Using a spatula, lift up the cooked portion of the egg to allow uncooked egg to run to the bottom of the pan.
Continue cooking until the top of the egg is no longer wet in appearance and bottom of omelet is light golden brown.
Remove pan from heat and slide omelet onto a serving plate.
Season to taste with salt, pepper and fold into the omelet herbs, shredded cheese, salsa, or other favorite combinations.
Serve immediately.
Note: Adding a little water when whisking the eggs will make this omelet light and fluffy.
Prep Time: 5 minutes
Cook Time: 5 minutes
Container: 7"-10" skillet
Servings: 1


Ingredients
-
2 to 3 large eggs, slightly beaten
-
1 teaspoon to 2 teaspoons water (optional)
-
1 teaspoon to 2 teaspoons butter (unsalted)
-
salt and pepper to taste