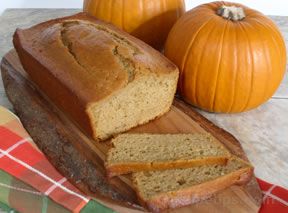 Directions
Preheat oven to 350º F.
In a medium bowl, cream butter and sugar.
In a separate bowl, combine all dry ingredients and blend together. Add eggs to creamed mixture and beat well. Add dry ingredients, pumpkin, and milk (or orange juice). Mix until well blended. Pour into prepared baking pan.
Bake for 60 to 70 minutes or until toothpick inserted into the center of the bread comes out clean.
Cool on cooling rack for 10 minutes before removing from pan. Remove bread from pan and allow to cool completely before serving or storing.
Prep Time: 15 minutes
Cook Time: 1 hour
Container: 9 x 5 greased bread pan
Servings: 10


Ingredients
-
1/2 cup butter (unsalted) or margarine
-
1 cup granulated sugar (may use a combination of white and brown sugar to equal 1 cup)
-
2 eggs
-
2 cups all purpose flour
-
1/2 teaspoon baking powder
-
1 teaspoon baking soda
-
1/2 teaspoon salt
-
1 teaspoon cinnamon
-
1/2 teaspoon nutmeg
-
1/4 teaspoon cloves
-
1 cup pumpkin
-
1/2 cup milk or orange juice
-
optional: chopped nuts and/or raisins to equal 1/2 cup