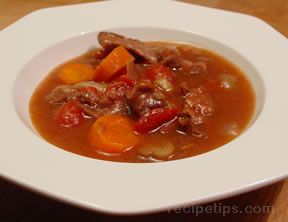 Directions
Trim any large bits of fat from the meat. Peel carrots and cut into 1/2 inch rounds. Dice onion; slice celery crosswise. Add all ingredients to slow cooker and mix thoroughly. Set temperature control to high ( 5 to 6 hours cooking time) or low (10 to 12 hours cooking time). In general, avoid removing cover while cooking (this can add to the required time), although brief checking to determine the state of doneness near the end of cooking time is ok.
When done (meat and vegetables are tender), correct seasoning. Remove bay leaves.
Served with a green salad, crusty bread and a hearty red wine, this is a very satisfying supper dish.
Prep Time: 15 minutes
Cook Time: 6 or more hours
Container: slow cooker, 3 quart or larger
Servings: 6
Serving Size: 1 cup


Ingredients
-
1 pound stew beef, cubed
-
1 pound carrots
-
2 onions
-
3 stalks celery
-
1 teaspoon garlic powder
-
pinch cinnamon
-
2 bay leaves
-
1 28 oz can tomatoes
-
1 4 oz can mushrooms (optional)
-
1 teaspoon salt
-
fresh ground pepper, to taste
-
1/2 cup red wine or water
-
1/2 cup quick cooking tapioca