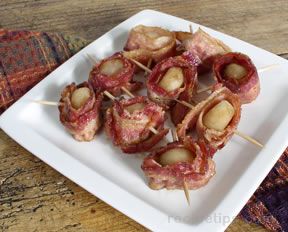 Directions
Mix sugar and soy sauce before marinating chestnuts in the mixture for 30 minutes.
Preheat oven to 400° F.
Wrap each chestnut with ½ strip of bacon and secure with a toothpick. Place a rack in a baking pan and place the bacon-wrapped chestnuts on rack.
Bake 20 minutes. Remove from oven and drain off excess drippings.

Serve immediately or refrigerate until serving. Before serving, reheat in 350° F. oven for 5 to 10 minutes.
Prep Time: 30 minutes
Cook Time: 30 minutes
Servings: 8


Ingredients
-
8 ounces whole water chestnuts, drained
-
1/4 cup soy sauce
-
1/4 cup sugar
-
8 slices bacon, cut in half
-
toothpicks