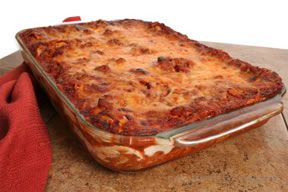 Directions
Brown ground turkey, onion and 1/2 teaspoon oregano in a large skillet. Cook thoroughly, drain. Add spaghetti sauce, water and mushrooms.* Simmer approximately 5 to 7 minutes.
In a bowl, combine Ricotta cheese, parsley, the remaining oregano, egg and about 3/4 cup Parmesan cheese.
Spread 1 1/4 cup spaghetti sauce on the bottom of the prepared baking dish. Layer uncooked lasagna noodles on top of sauce. Then, layer half the Ricotta cheese mixture and sprinkle with half of the grated cheese. Repeat spaghetti sauce, noodle and Ricotta cheese layers. End with a layer of spaghetti sauce and sprinkle with 1/4 cup of Parmesan cheese.
Cover and refrigerate overnight or a minimum of 8 hours.
Bake in preheated oven at 350° F for approximately 50 to 60 minutes. Let stand approximately 15 minutes before serving.

*Mushrooms are optional.
Prep Time: 15 minutes
Cook Time: 1 hour
Servings: 10


Ingredients
-
1 pound Italian ground turkey or Italian pork sausage
-
1 sweet onion, chopped
-
1 teaspoon oregano
-
4 cups spaghetti sauce, prepared
-
1 cup water
-
8 ounces sliced mushrooms* (canned), drained
-
2 cups Ricotta cheese (low fat)
-
1 tablespoon dried parsley
-
1 egg, slightly beaten
-
8 ounces lasagna noodles (wheat free and gluten free), uncooked
-
1 pound Swiss or Mozzarella cheese, shredded
-
1/2 cup to 1 cup Parmesan cheese, reserve 1/4 cup for topping