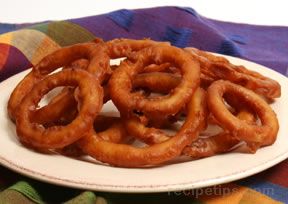 Directions
Peel whole onions and then cut crosswise into 1/4 inch thick slices. Separate the slices into individual rings. Dry rings thoroughly with paper towels.
Dredge rings in flour until well coated and then place on a large baking sheet. (Rings can be dredged in flour placed on a plate or the flour can be placed in a plastic bag. If using a plastic bag, several rings can be dredged at a time.) After all rings are coated, set them aside and mix batter.
Combine all dry ingredients and stir until evenly mixed. Set aside.
Blend eggs, milk and oil and then add the dry ingredients. Beat until all ingredients are well blended.
Add 1 inch of oil to a deep pan and heat to 375° F. Dip flour coated rings into the batter and allow excess batter to drip off.
Place batter coated rings into the hot oil. Avoid overcrowding so that they can cook evenly. Fry until golden brown on the first side and then turn to cook second side. When both sides are golden brown, remove from the oil and place on a baking sheet lined with paper towels to allow oil to drain off.
Finished onion rings can be placed in an oven preheated to 300°F to keep warm until all onion rings are done and ready to serve.
Prep Time: 45 minutes
Cook Time: 1 hour


Ingredients
-
3 large sweet onions
-
flour for dredging onion rings
-
1 1/2 cups flour
-
1 3/4 teaspoons salt
-
1 1/2 teaspoons baking powder
-
2 teaspoons sugar
-
2 eggs
-
1 1/4 cups milk
-
1/4 cup vegetable oil