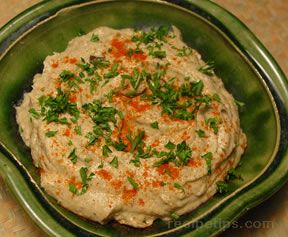 Directions
Grill the eggplant over direct heat, after pricking in several places with a fork, until it is blackened and collapsed. This will take from 30 - 45 minutes, depending on the size of the eggplant and how hot the grill is.
Scrape the soft flesh from the skin (leaving a few bits of blackened skin will add to the nice smokey flavor) and purèe in a food processor with the rest of the ingredients.
Garnish as desired. Serve with wedges of pita bread, crackers, etc.
TIP: Eggplants can also be oven-roasted at 400°F for 30 - 45 minutes, or until soft and collapsed.
Prep Time: 15 minutes
Cook Time: 45 minutes
Servings: 8
Serving Size: cup


Ingredients
-
1 1/2 pounds eggplant (more or less)
-
3 tablespoons tahini (sesame paste)
-
3 tablespoons lemon juice
-
1 tablespoon olive oil
-
1 teaspoon salt
-
2 cloves garlic, minced or pressed
-
optional garnishes: minced parsley, tomato, paprika