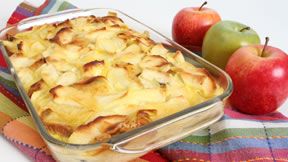 Directions
Preheat oven to 375º F.
Toast bread in a toaster or by placing the bread on a large baking sheet and putting the sheet in a preheated oven for approximately 15 minutes.
Place prepared fruit and raisins in a bowl and sprinkle with 2 tablespoons sugar and 1 teaspoon cinnamon. Put the fruit mixture in a large skillet and cook over medium heat until softened, approximately 15 minutes. Stir frequently.
Coat baking dish with cooking spray.
Tear toasted bread into pieces (6 to 8 pieces per slice) and place in the bottom of the baking dish. Pour cooked fruit over bread and spread evenly.
In a bowl, whisk eggs, milk, salt and remaining sugar together. Pour egg mixture over fruit. Allow bread pudding to set at room temperature for 5 minutes.
Using a hot water bath, bake the pudding 35 to 45 minutes or until the pudding is slightly set. Remove from water bath and cool completely before serving.
Prep Time: 30 minutes
Cook Time: 45 minutes
Container: 8
Servings: 6


Ingredients
-
8 slices cinnamon bread
-
1 large apple, peeled and sliced thin
-
1 large pear, peeled and sliced
-
1/3 cup sugar, divided (less if desired)
-
1 teaspoon ground cinnamon
-
6 eggs, slightly beaten
-
3 cups skim milk
-
1/2 cup raisins