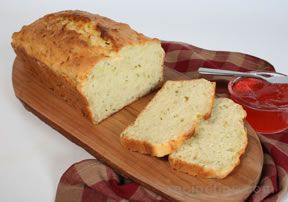 Directions
Preheat oven to 350º F. Grease and flour loaf pan.
In a large bowl, mix flour, zucchini, sugar, cheese, baking soda, baking powder and salt together. Set aside.
Melt butter in a medium size bowl and add buttermilk, beaten eggs and onion. Stir. Pour this mixture into flour mixture and stir until combined. Batter will be thick.
Spread into prepared loaf pan.
Bake 1 hour. Test for doneness with toothpick. When done, remove from oven and cool 5 to 10 minutes on wire rack.
Remove from pan and allow to cool completely before slicing.


*Drain zucchini on a dish towel or a paper towel to remove excess moisture.
Prep Time: 15 minutes
Cook Time: 1 hour
Container: 9" x 5" loaf pan
Servings: 8


Ingredients
-
3 cups all purpose flour
-
1 cup zucchini, peeled and shredded*
-
1/3 cup sugar
-
3 tablespoons Parmesan cheese (more if desired)
-
1/2 teaspoon baking soda
-
1 teaspoon baking powder
-
1 teaspoon salt
-
1/3 cup butter
-
1 cup buttermilk
-
2 eggs, slightly beaten
-
1 tablespoon onion, grated