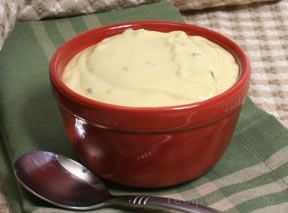 Directions
Combine all ingredients, blending the mixture well. Refrigerate for several hours and serve cold.
In addition to a topping sauce, Rémoulade may also be used as a salad dressing for seafood salads.
FOR A SEAFOOD SALAD WITH RÉMOULADE: mix a 1/2 cup of chopped celery, a 1/4 cup of chopped onions, several hard boiled eggs sliced or chopped, and 1 to 2 pints of cooked and chilled crab or shrimp that has been cut into pieces. Add the dressing, mixing well with the other ingredients and serve over a lettuce leaf.
Prep Time: 15 minutes
Servings: 1
Serving Size: cup


Ingredients
-
1 cup mayonnaise
-
2 tablespoons mustard
-
4 tablespoons capers - chopped
-
1 teaspoon anchovy paste
-
2 tablespoons fresh parsley or chervil - chopped