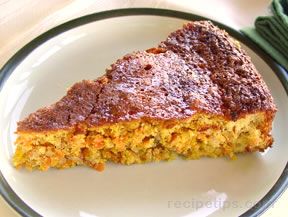 Directions
Preheat oven to 350° F. Prepare ingredients: separate the eggs. Remove the lemon rind (yellow part only) and chop. Juice the lemon. Grate carrots finely and grind the nuts.
Beat egg yolks and sugar until thick and light-colored. Measure lemon juice and add enough marsala or white wine to make 1/2 cup. Add this and the chopped rind to yolk mixture and mix well.
Add grated carrots and ground nuts to yolk mixture.
In a separate bowl, mix cornmeal, baking powder, cinnamon and salt. Stir into yolk mixture.
In a large bowl, beat egg whites (make sure bowl and beaters are completely free of any fat, which will keep the whites from beating well) to firm peaks. Gently fold yolk mixture, 1/3 at a time, into the whites taking care not to deflate the whites.
Pour into prepared pan and bake until a cake tester or table knife stuck into the center comes out clean --about an hour. Cool in the pan while you make the glaze.
GLAZE: Mix sugar and fruit juice, stirring over medium heat until sugar dissolves. Boil until mixture thickens a bit, about 5 minutes, and drizzle over cake. (Glaze can be made ahead of time, if you wish).
Prep Time: 20 minutes
Cook Time: 1 hour
Container: 10 inch springform pan
Servings: 8
Serving Size: 1 slice


Ingredients
-
5 eggs
-
1 cup sugar
-
1 lemon
-
1/3 cup marsala or white wine
-
2 cups grated carrots
-
1 cup ground nuts (almonds or walnuts)
-
1/2 cup corn meal (preferably not coarse ground)
-
1/2 teaspoon baking powder
-
1/2 teaspoon cinnamon
-
pinch salt
-
1 cup sugar
-
1/2 cup lemon or orange juice