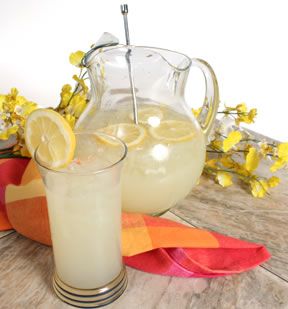 Directions
TO MAKE THE SYRUP: The lemons should be room temperature or warmer before the juice is removed. This will make it easier to squeeze the juice from the fruit. Juice 3 to 4 lemons to produce 1 1/2 cups of lemon juice. Set juice aside.
In a sauce pan, bring 1/2 cup of water to a boil and then add 1 1/2 cup of sugar. Continue to cook over medium low heat until sugar has completely dissolved.
Remove from the heat and add the fresh lemon juice. Stir to mix thoroughly and then allow the mixture to cool.
The lemon syrup can be stored in the refrigerator until needed or it can be mixed with water to produce lemonade.
TO MAKE THE LEMONADE: add lemon syrup to 4 1/2 cups of water. Taste to test for sweetness. If necessary, add a little more water. Refrigerate until chilled or serve over ice.
To make a single serving, add 1/3 cup of syrup to 3/4 cup of water.
Prep Time: 20 minutes
Cook Time: 20 minutes
Servings: 6


Ingredients
-
1 1/2 cups fresh lemon juice, 3 to 4 lemons
-
1/2 cup water
-
1 1/2 cups sugar